Effective trade show booth design is structured around a focal point. Most often, this is your display. Be it a banner stand, a pop-up display, or a hybrid display, these structures fill your space and set the tone for the rest of your booth. However, your display needs support. It needs back-up devices to help it shine and further your overall message.
This is what trade show booth accessories are made for. Hanging signs, sandwich boards, shelf kits, kiosks. These elements create intrigue, interest, and foot traffic. However, they do require spending budget dollars, which means you need to choose them wisely. You still want the highest return on your investment.
So where to start?
We know that choosing accessories can be just as overwhelming as choosing a display. To help you zero in on which accessories pack the most punch, we asked our design experts: What are the booth accessory must-haves? Three items ended up on the list.
1. Lighting
Trade shows are held in huge, warehouse-like spaces. The lighting is terrible. It's harsh, diffused, and utilitarian. Plus, it's at ceiling height! Too far overhead to make your graphics pop, much less create any kind of mood.
Investing in lighting is the fastest way to remedy all this and give your booth design a huge boost. You can spotlight booth elements, illuminate your graphics, and, most importantly, create a welcoming and inviting mood. Lighting also helps delineate your space, distinguishing your booth from your competitors and aisle traffic. Like an invisible welcome mat, it can entice your visitors.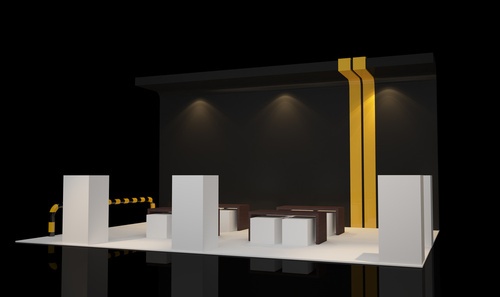 There are a myriad of lighting options to choose from. Not only can you vary wattage, you can also play with hue (color) and position. Ace Exhibits offers portable LED lights that clip onto display frames ensuring your graphic is well lit. We also have clip-on halogen lights for banner stands. Think outside the trade show box for creative additions. Table lamps, floor lamps, rope lights, holiday lights… all can contribute to your overall message and further your brand.
Food for thought: Attendees are naturally drawn to brighter, more striking visuals. Lighting emphasizes your brand and enhances your entire booth.
2. Flooring
Concrete floors, florescent lights, and vacuous space. This is the blank slate your booth emerges from. Transforming it into a space that says "you" has to happen from the ground up. Literally. Portable flooring is a great place to start.
Flooring has practical purposes: it ensures your displays are on a reliable surface, it delineates clear boundaries, it's clean. This eliminates fundamental unknowns present at every trade show facility while giving your staff predictability. A good thing during set-up.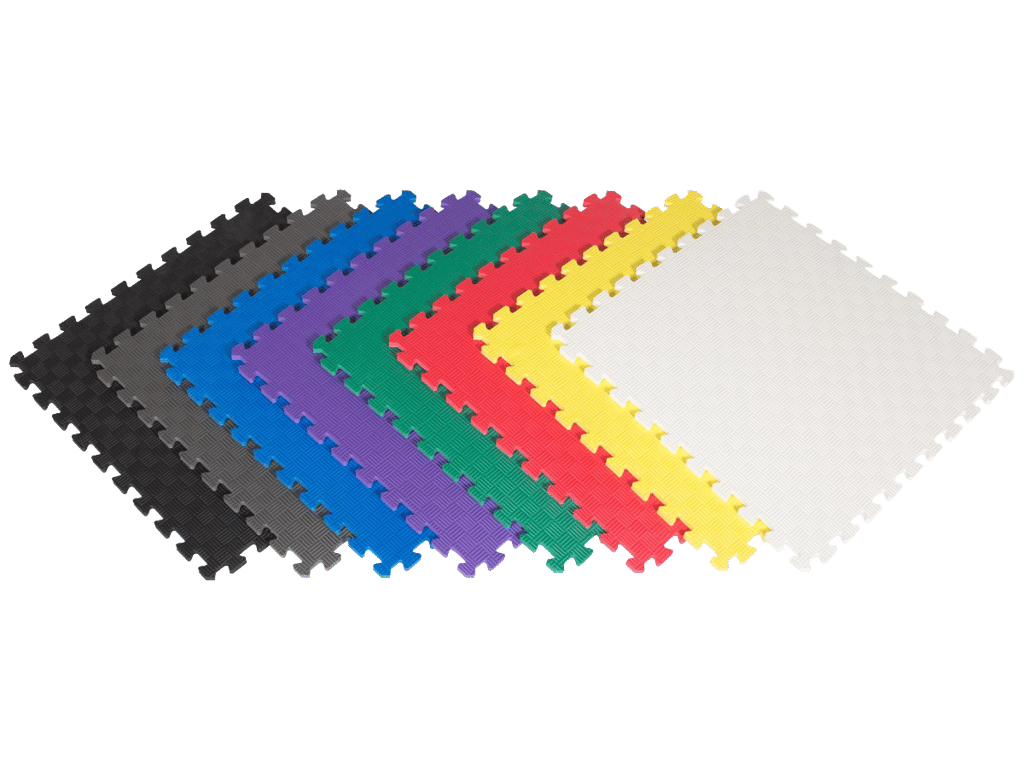 Beyond these basics, using your own flooring gives you control. You determine its thickness, you determine its color, you determine its look. Does your brand call for something sleek and modern? Imitation wood tiles help express that. Or maybe you need to convey a more comfortable, at-home feel? are great under bright area rugs.
Most importantly, using your own flooring distinguishes you from your competition and the aisle. It tells your visitors where your threshold is and invites attendees in.
Food for thought: Foam-based flooring creates a comfortable, easy-on-the-legs walking area. This is attractive to show-goers (they'll stay longer!) as well as healthier for your staff.
3. Podiums and Counters
Podiums and counters may seem old-fashioned but, in reality, they're an effective trade show tool. They help your staff exude professionalism and expertise. They make your booth look organized and tidy. They save space. More compact than a table, they can do double-duty as one if need be. We offer traditional podiums, stylized counters, and carrying cases that double as podiums.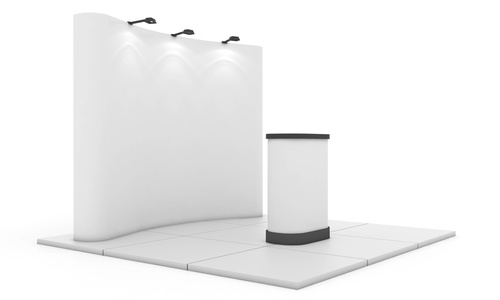 The greatest feature of podiums and counters is their ability to facilitate one-on-one interactions between your staff and booth visitors. Standing behind (or near) them keeps your staff members on-track and focused. They eliminate guesswork; potential visitors can discern who is staff and who isn't. This lack of uncertainty is welcoming and encourages longer visits.
Food for thought: Attendees are less likely to enter a booth if they can't tell who's in charge.
Bonus item!
4. Literature racks were mentioned by all our experts when stressing the importance of a neat, well-organized booth. It was universally agreed that there's nothing more off-putting to trade show attendees than clutter.
The crux of trade show booth design is this: your display draws attention and attracts traffic, your brand literature supplies your company's story. Making that story easily accessible is vital to the sales process. It's information your potential customers take with them to recall details of their visit to your booth, refer to for your contact information, and, fingers crossed, share with their friends.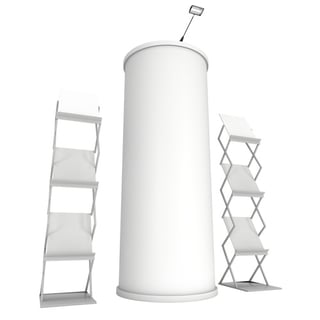 Literature racks put your story at attendees' fingertips in a neat, organized, and appealing fashion. They come in various sizes, configurations and looks. For example, Ace Exhibits offers a five-pocket rack, a wide-format rack, and a mesh rack. Their sleek, understated designs allow them to meld with a wide range of brands and motifs.
Food for thought: Neatness conveys professionalism, competence and reliability. It's a compelling attention-getting tactic.
As with other forms of design, accessories are meant to boost the main message. Trade show booth accessories are no different, although the message they're boosting is your brand. As with most accessories, it doesn't take much to evoke a powerful impact. Lighting, flooring, podium and counters can take your display to the next level. Using literature racks boosts visual interest while facilitating neatness. All these accessories are simple to use, affordable, and increase awareness. Give them a try!
Have you recently added any of these accessories to your booth? If so, we want to hear about how it went. Share your experiences in the comments. If you have questions about choosing the right accessories for your brand or have questions about how to include them in your booth design, contact our design experts. You can instant chat with them on our website: AceExhibits.com or you can speak with them live by calling 844-716-3542.