Trade shows are prime opportunities to nurture existing business relationships and form new ones. It's not often that the industry's finest are all gathered together in one place at the same time.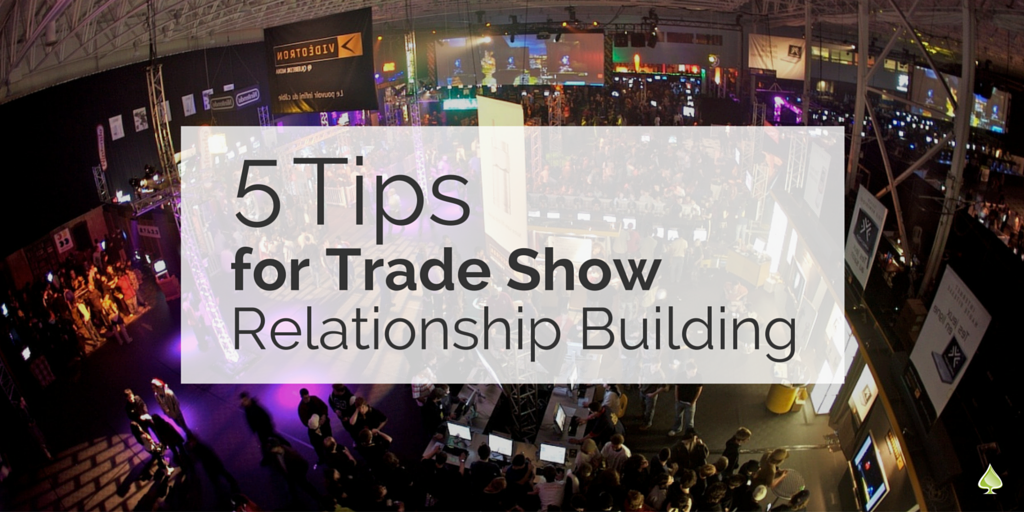 Take this opportunity to pull out all stops for your clients and partners and show them how much you appreciate their business and support because, frankly, without them your company wouldn't be in business.
Here are five trade show relationship building tips to give your clients and partners the royal treatment at your next exhibition.
1. Host An After-Party for Them
What better way to entertain your clients and partners than with a proper trade show after-party to show your appreciation?
Trade shows aren't all business and no play - work hard, play hard, right?
If the hotel you're staying at has a nice hall that you can rent out, then go the extra mile and host a party that allows everyone to relax and mingle with one another.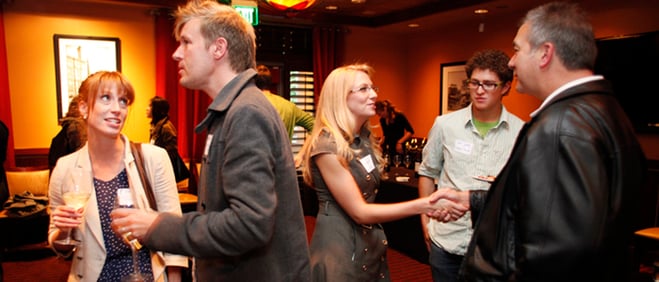 The hotel may even have a dedicated event planner on-site who can handle the ins-and-outs of the party planning so that you can focus on the trade show, worry-free. Your guests will be grateful for your efforts and be reminded that your company goes above and beyond for its clients and partners.
Want your party to really make a lasting impression? Add an extra level of entertainment by hosting a themed party for your VIPs and really give them a night to remember.
2. Wine & Dine Them
If renting out a dining hall at a hotel isn't an option, then treat your top clients and partners to dinner at the city's finest restaurants.
Choose a restaurant that has a private dining area that is quiet and has a nice ambiance so you aren't competing with the background noise while trying to entertain your guests. However, if a private dining experience isn't available, simply request a table that is away from the bar/lounge area and as private as possible.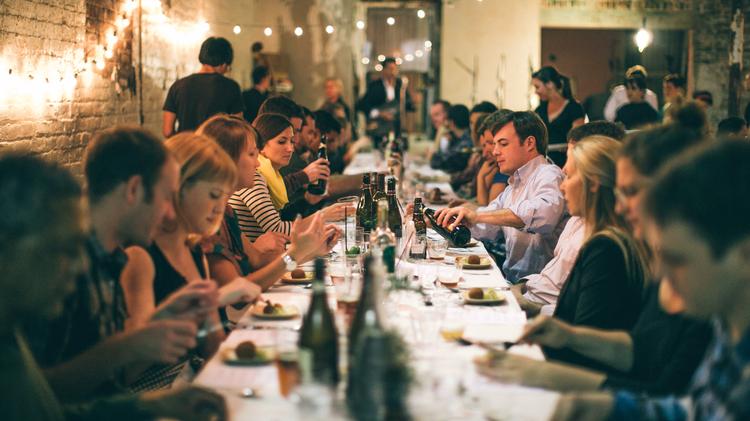 A word to the wise on drinking during these types of dinners: never have more to drink than your client and definitely never insist that they drink or have another drink, if they decline the offer the first time.
This isn't a drinking competition here, so be cautious of how much you consume when entertaining clients. When the wine or beverage list is presented to your table, always pass it to your guests and let them decide what libations they'd like to indulge in for the evening.
3. Take Them on a Yacht Cruise
If you're looking for a way to really wow the crème de la crème of your clientele (and the trade show is in a city that is near a large body of water), then definitely consider renting a nice yacht for a sunset cruise.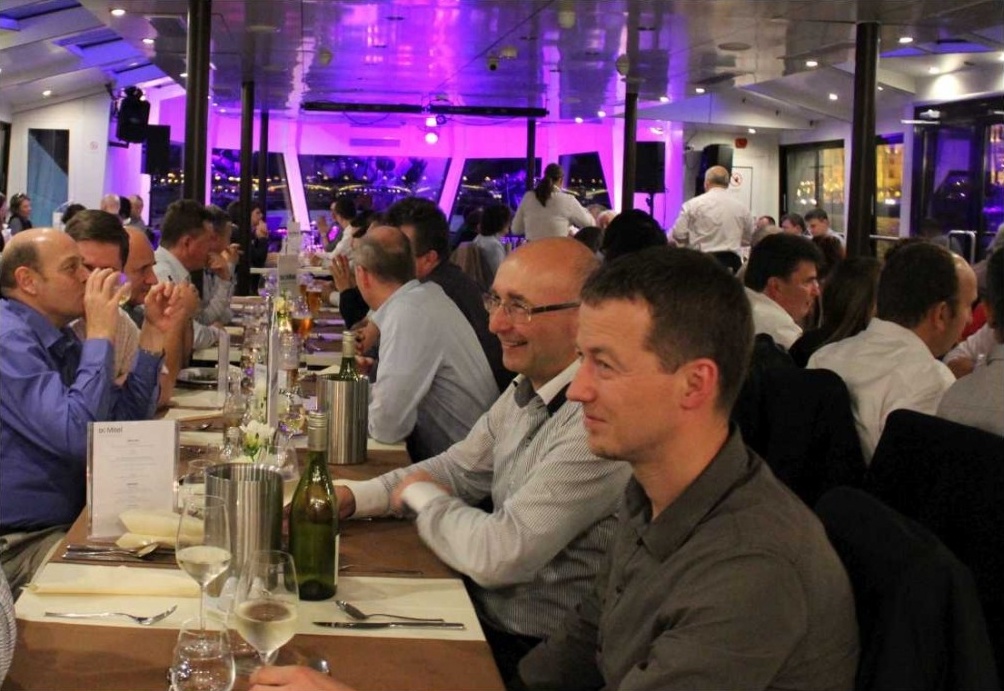 Not only will your clients and partners be blown away by the gesture, but your event will be the talk of the town for years to come. Typically, yacht rentals come with a wait staff to serve you and your guests the finest appetizers while you mingle.
It doesn't get much more luxurious than sipping some bubbly while you all enjoy the sunset and ocean breeze.
4. Take Them Out to a Ball Game
If you're wanting a more casual way to entertain your top clients and partners that is both sophisticated and fun, then consider renting out a corporate suite at the local sports arena and hosting a private party there.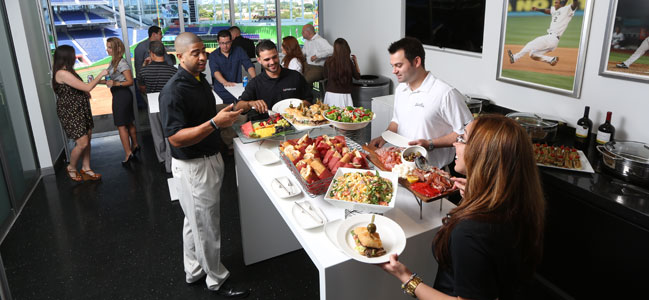 Your guests will love the laid-back, VIP experience, especially after a long, exhausting day working the trade show.
Cheers as you cheer on your favorite sports team because what's better than a sports game and a brewski after a long day?
5. Give Them the VIP Treatment at Your Booth
Last, but definitely not least, don't forget to give your clients and partners the VIP treatment at your booth.
Sometimes it's as simple as dedicating a small, comfortable spot in your booth for private meetings, or even a lounge area for them to relax a bit while they enjoy a complimentary ice-cold beverage.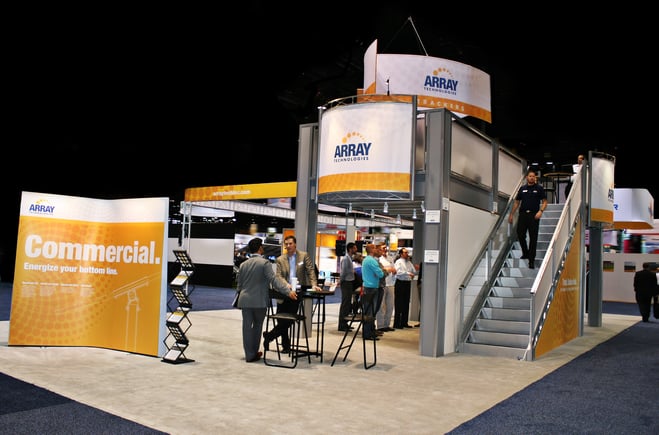 Be sure your pre-show marketing includes invitations to your top clients and partners to visit your booth at the show for a quick meeting or chat. You can also make personalized VIP gift bags for your star clients and partners so that they don't walk away empty-handed.
Conclusion
Trade shows are an excellent time to build new relationships and strengthen the relationships with your best clients and partners.
Here's a few creative ideas to do so:
Host an after-party at your hotel

Take them out to the best local restaurants

Take them on a yacht cruise location permitted

Take them to a sports game with VIP seats or box

Or simply give them VIP treatment at your booth
For some other great tips on how to give your guests the royal treatment at your booth, read "Head-Turning Trade Show Booth Design and Layouts Ideas".
In the end, the point is to treat your guests to an experience that is going to suit their needs and prove that you're willing to go the extra mile to show your appreciation.
It doesn't take much to give your clients the royal treatment, either - all it takes is a bit of planning and creativity. Use the suggestions above to really wow your VIP clients and partners and prove that your company is truly a cut above the rest.