Are you skeptical about the benefits of exhibiting at trade shows? Think the whole trade show thing is a bunch of hooey? You may want to reconsider.
Statistics show that trade shows are one of the most effective marketing tools out there. In fact, the data shows "the cost of a face-to-face meeting with a prospect at a tradeshow is $142. The cost of a face-to-face meeting at a prospect's office is $259." (SageWorld.com)
Did that get your attention?
Chances are, if you've come away from your trade show experience(s) believing trade shows are a waste of time, you're doing something wrong. It's an easy mistake to make - there are a lot of components that contribute to showing well. Choosing a great display is just the tip of the iceberg. Becoming an effective trade show exhibitor is a process.
Very few first-timers knock their ROI out of the park at their first show. It takes practice. Happily, a few minor adjustments can turn your results around. Take a look.
#1: Attend the Right Trade Show
Don't simply sign up for a show because it's a show. This seems obvious, but it's surprising how many new exhibitors get it wrong – and it makes or breaks your results! Being selective is crucial.
How do you decide if a show's a good fit for your company? First and foremost, it must further your brand. MUST! Second, it must attract your target audience. Pre-show research will give you this information. Use your research findings to develop a realistic target for leads and ROI. This information dictates whether or not the show is a viable marketing opportunity.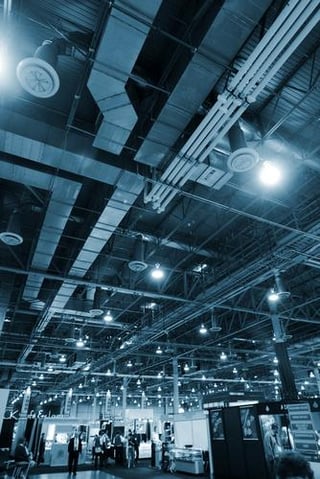 #2: Choose a Smart Booth Size
Bigger isn't always better - sometimes it's just expensive. Many new exhibitors make the mistake of thinking a larger space will garner more visitors. This isn't how it works. Attendees stop in your space because their interest is piqued, not because you have a lot of acreage. A well designed 10-foot space can be more compelling than a 20-foot space.
Before shelling out the big bucks for a big space, determine how that space is going to pay for itself. Will you surpass its price in sales? Is it vital to your brand's message? Will it help connect you to useful leads and industry connections? If you're buying the space just to have a big space, you're wasting precious budget dollars.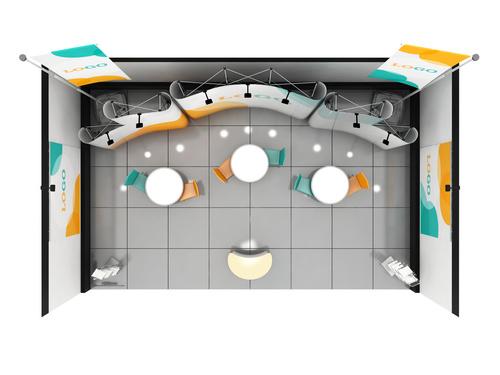 Need help designing your trade show booth? Download our booth design guide.
#3: Focus on Your Brand's Best Features
There's more to generating booth traffic than putting up a backdrop and handing out giveaways. Booth design is a big draw and can significantly impact your traffic levels. An effective design creates a compelling snapshot of your brand/product, sends a cohesive message about who you are, and piques attendees' interest. This is an ongoing process. What worked in the past may not work in the present. Re-using your design again and again may actually be hurting your results.
So what can you do? In many cases, upgrading your booth can be simple: add an interactive element, change your graphics, alter its configuration. If your changes are on-brand and relevant, your traffic and lead generation will increase.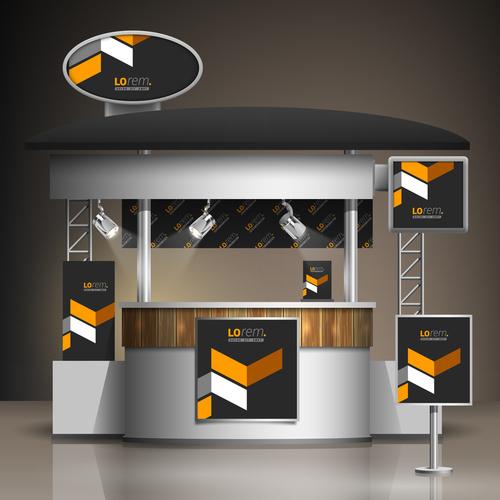 Sometimes it means giving your booth a facelift. Here's a great success story about a company who gave their booth a complete make-over and significantly increased their booth traffic – and leads! – as a result. Notice how the improved design stresses their product (lighting).
Like learning to present well, booth design isn't a stagnant process. Allowing yours to evolve over time will make it memorable.
#4: Focus on Your Staff
Trade shows are valuable because they facilitate face-to-face connections between you and your potential customers. This means your staff is your most valuable trade show asset. Their behavior, outlook, and disposition can make or break your results. You're depending on them to meet people, make connections and, hopefully, create sales. Be picky about who you send! These are the people who will make your projected results a reality.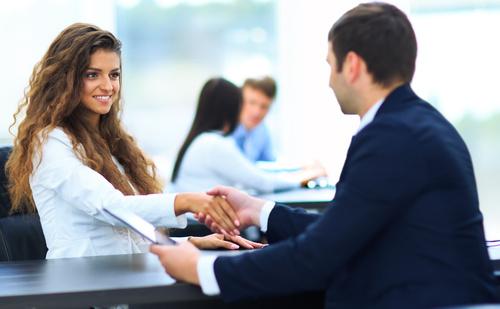 Being selective extends beyond energetic, approachable personalities. You want buy-in. Translation: train your staff about the trade. Clue them in! Include them in planning and goal-setting, get their input on booth design, teach them how to tell the brand story effectively, and, above all, make sure they know your products inside and out. Investing time and money into preparing them for the show will boost your results significantly.
Focusing on your staff also means setting expectations. For instance, no devices (phones, tablets, laptops, etc.), no sitting, no badge scanners. Their job is to connect with people, not technology. Make sure your staff knows this and why it's important. This is a no-cost adjustment that can reap huge dividends, not only for your sales sheet, but also for your reputation. People remember people and, in turn, remember who they work for.
Here's a great article from a small business owner who made these adjustments. Now, she typically triples in sales what she spends on expenses. Now there's an ROI!
#5: Intentional Lead Management
You can be at the right show, have a spot-on display with a kick-ass staff on-hand, and still get poor results if you don't thoughtfully manage your leads. They are your golden nuggets! Don't add them in your database and forget about them. Have a plan for how you will use the connection to further your business: Who's the appropriate follow-up person? How will they be included in marketing streams? How can they lead you to other potential customers?
Attending a trade show is also a great place to network with clients, thank them for their patronage, and get their feedback. What do they like about your company/product? What would they like to see? How can you improve? Clients are more forthcoming with this information when engaged in a one-on-one conversation. Remind your booth staff to ask for it.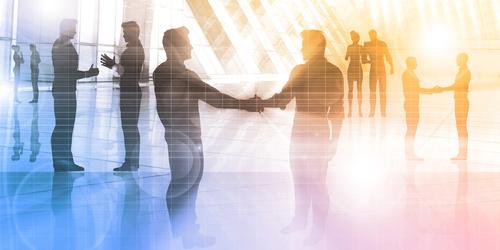 Also, keep in mind that a sales lead isn't the only golden nugget you can reap at a trade show. Exhibiting is a great way to learn about your competition, stay current on industry news, and network with your peers. It's also a great place to learn what does and doesn't present well. Get some ideas!
Exhibiting at a trade show is a proven marketing strategy. It's the fastest and most economical way to connect with a large number of potential clients. A poor ROI doesn't mean trade shows are ineffective - it's a sign your approach may need some tweaking. Try making some minor adjustments, and you may change your mind about trade shows.
Have you made any effective adjustments to your exhibit style? What have you learned? Share it in the comments. We're always looking for new ideas. If you're struggling to improve your booth, we can help. Our design experts are on hand to answer questions, provide suggestions, and give feedback. Reach them via Live Chat on our website AceExhibits.com or speak with them live at 888-777-0223.