Hello! Welcome to the wonderful world of trade show displays!
Daunting isn't it? Heights, widths, curved, flat, stretch fabrics, tension fabrics, standing, hanging... and what the heck is dye-sublimation?!
Breathe. We know the clock is ticking and your deadline is looming. We know you've got to get a display ordered, that you're not sure where to begin, that the whole process is overwhelming. We know you want this task done and over with. Fast.
We've got good news: Ordering a display isn't as hard as it looks.
Ace has been designing and manufacturing tradeshow displays since 2008. We've garnered a lot of knowledge, streamlined a lot of processes, done a lot of trouble-shooting. We know how to make ordering a tradeshow display online stress-free. Fun even.
We want to share our know-how with you. We've created a four-step checklist to guide you through the ordering process. Download a PDF version to have on-hand when it's time for you to place your order.
Step #1: Display selection
There are so many displays to choose from! We're proud of that. We work hard to make sure there's a display for every occasion and budget. But how to choose?!
There are two primary criteria for selecting a display: your budget and your space. You can't make any realistic decisions - or even educated guesses - without these two pieces of information.
Your budget should reflect your tradeshow goals. For instance, are you attending the event to generate new leads? Introduce a new product? Establish your company's expertise? You may need to allocate the majority of your budget to pre-show networking and have an understated presence at the show itself. Maybe a 10 foot adjustable backdrop will suffice. In contrast, you may need an at-show visual splash, which requires spending more on the display. Now you're looking at hybrid backdrops, hanging signs, or flooring. Making this assessment will save you time and prevent overload; you'll look at pertinent options only.
Obviously, your space is a big determinate. You may be relegated to the middle of the venue's thoroughfare and need a small, compact display like a banner stand, or a podium. Or you might have a 40-foot expanse to transform into a multi-media haven. Are you going to do this on a limited budget? Then a wall of banner stands and a tabletop cover will do the trick. Or are you pulling out all the stops? Now you're looking at 20-foot backdrops, display shelves, podiums and funnel towers
You may be outside! This brings tents, sandwich boards, teardrop banners, into play.
Your space needs will steer you to appropriate categories and help narrow your search. Your budget will hone it further.
It's also helpful to know if you'll be incorporating technology (i.e. tablets, monitors, etc.), brochures or other marketing collateral. We have tablet kiosks, literature racks to accommodate these needs. Will you be displaying products? This can be as easy (and affordable) as a table cover or as snazzy as a shelving unit If you're planning a red carpet event, do you need a photo area, will you be establishing walkways or podiums? This can be done with 20-foot backdrops, banner stands or by mixing and matching displays. It comes down to budget, space and your imagination.
Creating a list of special needs will help zero in on the right display quickly.
Step #2: Preparing Artwork
Preparing your artwork correctly is crucial to your finished product and your delivery time. It's not something to be rushed through. Specific instructions can be found on our site.
We also provide templates for each display. Use these to ensure your message/design is positioned the way you intend. Each template shows how images will wrap around frames, where to position text, how to account for seams and zippers. We also include written instructions for designers outlining exact measurements, ink specifications (CYMK, RGB, Pantones), flattening images, etc. Although it sounds complicated, it's really a matter of aligning your image and text to the desired template. Easy-peesy.
There are two specifications that are extremely important: the DPI (dots per inch) and the file type. Your graphic must be built at 150dpi in the proper dimensions. This ensures our printers can perform optimally. Second, your graphic must be in one of the accepted file types: PDF, AI (Adobe Illustrator), TIFF and JPEG. These formats are compatible with our equipment and produce the best results. Having this prepared and uploaded properly helps us serve you better and offer you the best prices in the industry.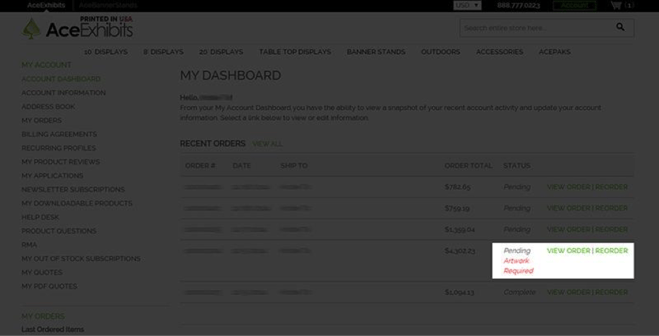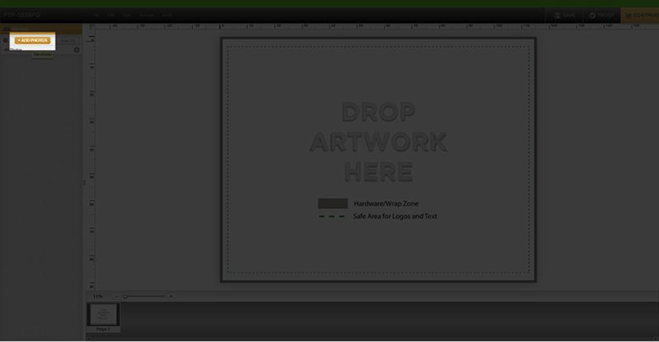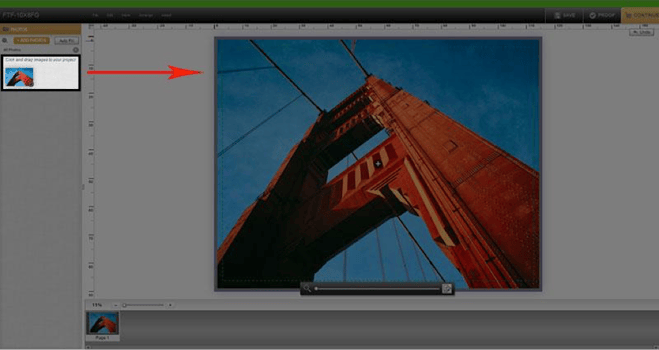 Step #3: Uploading Artwork
We developed our Artwork Upload and Graphic Proofing System to make this step easy, engaging and efficient. No phone calls or emails with proofs, no lag time, no wondering what your graphic is really going to look like. What you see on the screen is what you get. For this reason, it's important to follow the artwork specifications: Is the image at 150dpi? Has it been flattened? Is it positioned correctly? Is it in the correct file format? If your display involves multiple graphics, our Multiple Artwork Upload page follows a similar process to the single-image upload: upload art, position, proof, accept, order.
Be sure the graphic is the way you want it. Graphics are usually printed right away to meet shipping deadlines. Our workflow doesn't leave room for mis-proofing. The responsibility for correctly placed and constructed artwork lies with you. Take your time. Contact us for help if you have questions.
Step #4: Shipping Options
You're almost finished!
Once your artwork is approved and your purchase finalized, you determine how quickly you receive it. We ship via FedEx. You can choose regular ground transportation to 3-day order-to-floor. Overnight shipping is available for serious panic situations. We do ship internationally.
That's it! With a few well-considered clicks of your mouse, your display is ordered, proofed and on its way to you. Check it off the to-do list and consider yourself a display-ordering pro.
If you have questions, want more information or need professional advice at any point during your experience, our experts are on-hand to help you. You can Live Chat with them on our website AceExhibits.com or call 888-777-0223.