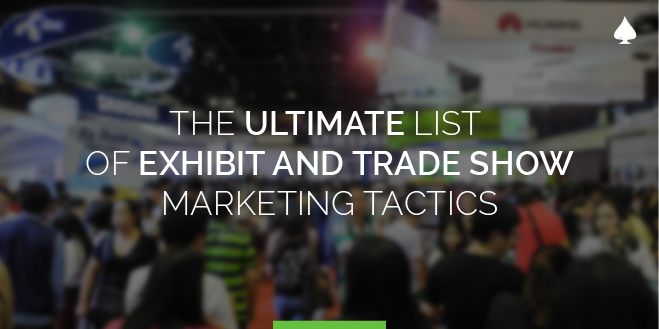 There's a bit more involved in exhibiting at a trade show than the concept of "build it and they will come."
You can build it, alright, but we can't promise the right people will come.
For this reason, we've compiled the ultimate list of trade show and exhibit marketing tactics to help your company trump the competition and stand out from the rest.
This is a massive list of marketing tactics and strategies that start from before the your trade show even starts to activities you can do after the trade show ends.
We recommend you bookmark or favorite this page for future reference.
Before Your Trade Show
1. Research
Not all trade shows are created equal, so do enough research about a trade show to see if it's even worth it to attend, let alone exhibit.
2. Budget
Trade shows are definitely not cheap and, in fact, they are probably one of the biggest sales, marketing, and business development expenses a company incurs throughout the year.
Make sure to set a realistic budget and calculate all the costs involved in exhibiting, including travel expenses for employees.
3. Audience
Different trade shows are meant for different audiences, so it's crucial to research a show and its expected demographic beforehand so that you know to whom you are and aren't marketing.
---
EXPERT SPOTLIGHT
Michael heipel
Michael runs the Event Marketing Blog. He is a trainer, consultant and frequent speaker for the events industry, content marketing and event technology.
"As an exhibitor, it is crucial to have one clear message and one message only to convey. This message should be the essence of pre-show marketing, booth design, post-show follow-ups and every other communication in conjunction with the event. The attention span of trade show visitors is very short, and every other exhibitor is shouting at the top of their lungs, too! If you try to squeeze in too much information, you won't be able to get the desired attention. Supporting that core message with great storytelling techniques before, during and after the show will get you the ROI you wish for"
---
4. Promote
Now's the time to put your marketing + PR teams to work to set up and execute promotional campaigns to notify your audience that you'll be exhibiting at a particular show.
Send out invitations to visit your booth (inclusive of your booth number) via direct mail, e-blasts, newsletters, social media, print advertisements, PR blasts, and banners on your website and in your email signature.
5. Stock Up
Ensure that you have enough marketing collateral for the show (e.g. brochures, business cards, tear sheets, samples, press kits, etc.).
You might also want to consider printing a show-specific brochure to better target your message to attendees.
6. Location
Booths are usually assigned on a first-come, first-served basis, so get in early. Remember, early bird gets the worm (or prime exhibit space).
Be sure to look into exhibitor booth package offered by the tradeshow to get the necessities set up for you so that you don't have to bother with the booth's carpet, tables, chairs, etc.
7. Design
Once you've secured your booth space, it's time to design and plan out your booth.
Gather the necessary information (spatial requirements, size regulations for posters + banners, etc.) from your exhibitor packet to ensure that you stay within compliance.
For some design inspiration, check out our stunning 8', 10', and 20' displays and our eye-catching table top displays.
If you simply have no idea where to start and need some guidance, you can live chat with one of our representatives who can help you get trade show-ready in no time. (Click on the green "Chat now" box located at the bottom left-hand corner of the screen.)
8. Sponsor
If your budget permits, secure prime advertising and/or sponsorship space at the show to ensure that your company's name is included in/on goodie bags, handouts, program, lanyards, showroom, etc..
9. Present
A great way to get in front of your audience and add credibility to your company is to sign up to be a keynote or panel presenter.
More times than not, you get some advertising freebies when you pay for "speaker packages."
10. Schedule
One of the joys of a trade show is that people from all around the world in your industry come to see the latest and greatest the industry has to offer.
This is a prime opportunity to schedule meetings with VIP clients and prospects so that you save yourself some cash and time from having to fly to their side of the world to meet.
Fill up the calendar and fill up your booth -- it's a great selling point during the show.
11. Hashtag
Make a unique company hashtag for the show that is easily recognizable or witty and include it on EVERY SINGLE piece of collateral and advertising possible.
This is an easy way to personalize your social media posts and encourage others to tag you in their posts at your booth -- and it's easy to track.
During Your Trade Show
1. Giveaway
One of the best ways to collect business cards (aka prospect data) is to host a giveaway that has a significant prize, like an iPad mini.
For some reason, people at trade shows will sell their souls for the chance to win a prize from a drawing, so milk it for all its worth.
2. Invite
Attendees will be hesitant to enter your booth if they don't already know who you are, so consider making your booth as open and inviting as possible.
Your reps should be standing up and engaging with people passing by, not sitting in the corner of the booth on their phones or chatting with each other.
3. SWAG
A trade show attendee's need for free SWAG is like an endless abyss -- he/she will keep coming back for more, time and time again.
Make sure to have SWAG in abundance to satisfy the needs of eager trade show-goers.
If you want to stand out from the rest and spend a little extra cash, then look into purchasing some higher-end branded SWAG, like nice pen setsand iPad covers, for your VIP clients and prospects.
4. Shifts
Most tradeshows last for a couple of (very, very long) days, so it's wise to make a game plan for each day of the show.
Don't expect one or two people to sit in a 10' x 10' booth for eight hours a day three days straight and think you're going to get maximum results from the show, because you're not.
Employ a team of at least four to six people (if you have that many to spare) who can take shifts working the booth.
5. Collect
Any way you can collect attendee information, do it. Ask for business cards for giveaways, rent a tradeshow attendee scanner if available, or use a simple sign-up sheet to gather new data.
6. Network
Trade shows aren't just for sitting in your booth all day, they're also great networking opportunities, so walk the floor and see what everyone else is or isn't doing.
Focus more on relationship-building at trade shows, rather than trying to close the deal.
---
EXPERT SPOTLIGHT
Stephanie selesnick
Stephanie, the President of

International Trade Information, Inc.

, is an international exhibition consultant, blogger and trainer.
"When you attend networking events – including educational sessions – make sure you sit apart from colleagues and people you already know. It's a great way to meet new people and prospective clients. You already know the people you know. Part of being at a trade show is to meet new people. Have your elevator pitch down, but don't act like an obnoxious salesperson. Be friendly and see where the conversations take you."
---
7. Selfies
Post pictures to your social media channels to keep your audience in the know. This is a great way to attract people to your booth by hosting a contest, treasure hunt, or flash sale at your booth.
8. Video
Play videos at your booth to help explain your product or service to people passing by your booth without your representatives having to explain it. Rich content and visuals are key!
BONUS TIP: Have a charging station at your booth to get attendees to stop by and stay for a little while -- oh, and don't forget to advertise the HECK out of this on all of your advertising, especially at your booth.
After Your Trade Show
The show isn't over until you say it is… or you drop the ball and don't follow up!
The most crucial aspect of making a trade show worth all the blood, sweat, and tears is the post-show tactics. Here are several ways to ensure that you get the most out of your trade show investment after the curtains have been drawn.
1. Thank Yous
Send out thank you cards and/or a little thank you gift to everyone you met at the show.
Try to personalize them as much as possible by handwriting the notes or including specific details/answers from the conversations you had with these people at the show.
This will make a world of difference and show that your team was actually paying attention and not just in it for the contact info.
Encourage your team to really engage and listen to what each person is saying and have them jot down pertinent information on the back of that person's business card so that it's easier to recall when it comes time to write the thank you note.
2. Connect
Invite your leads to connect with your company on Linkedin and other social networks. This will ensure that they stay up-to-date with the latest news and happens of your company on their own accord.
3. Win-win
Follow up by providing your leads with valuable information about the company that is both informative and useful, such as awards, clientele, significant articles, and impressive stats of your company.
4. Blog
Be sure to blog about the show and indicate what your team got out of the show. Be sure to include a link to the trade show's site as well as plug the heck out of the show's name. SEO, people!
5. Give
Offer your new connections something special or exclusive in return, like an exclusive promo code for a discount (which you can use to track ROI from the show), a special offer (free e-book or guide download), or a complimentary consultation or free product.
A little goes a long way for exhibitors who make the effort to show that they mean business.
6. Measure
It's important to gauge whether the show was worth the investment, so be sure to track and gather as much data as possible so that you can measure the show's ROI. This will help you decipher whether or not that trade show is worth attending in the future.
Bonus Tips from Trade Show Experts:
Are We Missing Your Favorite Tip?
Leave a comment below with your favorite trade show marketing tip whether it's in the before, during, or after stage and we'll consider adding it to our list!
We hope that this list of trade show and exhibit marketing tips will help you and your team devise an effective and successful marketing plan for your next trade show. We encourage you to stop by our website to view our industry-leading portable tradeshow displays that will transform any empty booth space into an exhibit worthy of center stage.
If you have a trade show right around the corner and you're in need of exhibit displays ASAP, then you're in luck! Ace Exhibits just launched our 3Day: Order to Show Floor printing and shipping service that guarantees 24-hour print production and two-day shipping anywhere in the contiguous 48 states for the price of ground shipping, without additional rush charges. It's a deal you simply can't pass up.
About Ace Exhibits, Inc.
Ace Exhibits is the No. 1 resource for portable tradeshow displays in the United States and Canada and has been manufacturing and selling trade show display products since 2006. The company has been recognized on Inc. Magazine's fastest-growing private companies list five years straight. Ace Exhibits sells to both retail and distribution channels, offering a wide range of trade show products from simple pop-up displays to elaborate display packages with graphics. Ace Exhibits also offers portable systems, banner stands, podiums, chairs, detachable graphics, design and more.