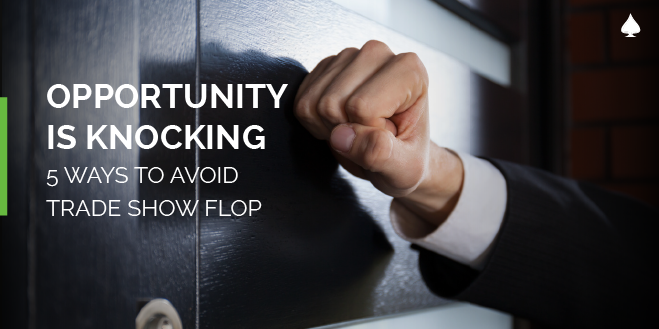 No one wants to flop, especially when trying something new - like a trade show. Unfortunately, being new puts you at a disadvantage. You're overwhelmed, prone to mistakes and just plain nervous. Despite your best intentions, you aren't functioning at your best. This is part and parcel of being a novice. It's going to happen on some level.
There is one sure-fire way to stave off potential doom: establish realistic expectations.
Setting expectations is a primary management tool. They are the framework for your success. They establish roles, delineate goals, define action plans. They get your whole team heading in the same direction; everyone knows the game plan. Yes, unexpected mishaps may arise, but clear, realistic expectations will help you weather them quickly and efficiently instead of being at the whims of mystery.
Of course, you're going to gain experience and insight with every show you do. However, instituting expectation setting into your preparations will shorten your learning curve and bring you one step closer to your "best case scenario."
So how do you initiate good expectations? How do you create an action plan that everyone on your team buys into, trusts and relies on? How do you avoid having your trade show become a flop?
Below are five opportunities to set expectations for your trade show experience. Use them to help make your first forays into the tradeshow environment productive regardless of whether everything goes smoothly or not.
Opportunity #1: Plan ahead
This seems obvious but it's surprising how many new exhibitors don't do it. They essentially start off on their trade show journey with no map. This is a recipe for disaster - and it usually is! You and your team need to know where your trade show road is leading (your goals) and how to get there (your strategy). Use a checklist, make - and write down - a plan. Not only will this help you before during and after the event, it will help you determine your success, i.e. were goals met, what was effective, how to improve.
A key component of planning is time management. There are a lot of time-sensitive elements associated with participating in a trade show: entry cut-offs, printing deadlines, shipping timelines. Miss any of these and you rack up serious costs in late fees, rush charges and shipping fees. Not to mention, being late puts you and your team in a frenzy. Not a good place to make decisions. Do you really want to be proofing artwork, choosing booth equipment, and making schedules when you're feeling rushed? No. So include a calendar in your planning sessions. Make a timeline.
Another planning must: read the exhibitor's manual! It's essential to follow the rules and regulations if you want to avoid unnecessary fees. It will also tell you who to contact for help with hanging banners, procuring electricity, connecting to wifi. The majority of your questions can be answered by referring to the manual.
Once you've made a plan and studied the rules, it's time to tell everyone about your new endeavor. Hello! Social media! Facebook, Twitter, Instagram, LinkedIn... they're all free (for the most part). Use them! In fact, include them in your plan under marketing. Use your company's blog to create a buzz. Studies show trade show attendees know which booths they're visiting before they get to the event. You want to be on their lists. Pre-show marketing is a must.
Opportunity #2: Select your staff
One of the most common trade show mistakes is sending the wrong people and/or not training them. Trade shows facilitate interpersonal interactions. That's their purpose. It is imperative to plan who you send. Do you need to send your top salespeople? These folks will be your company's face and voice at the trade show. They're also your company's cheerleader. Make sure you send people who match your trade show plan's purpose. Once they're selected, thoroughly train them in everything from setting up equipment to the company's history to the latest product. Empower them with knowledge.
Once you've determined who will be in your booth, take care of them. First, make sure they understand the overall plan and goals for attending the trade show. Be clear about what's expected of them.What's their lead goal? What's the primary message? Are they promoting a specific product, a product line or the company as a whole? Do you want them connecting with company reps, decision-makers, other experts? People work better when they know what's expected of them.
Second, no one can be high-energy, on-the-go all the time. Prevent burn-out by establishing a clear staffing schedule that gives each person a break. This will keep them rested, energized and in good spirits which will ultimately benefit your exhibit as a whole.
Opportunity #3: Display quality, not quantity
Trade shows are synonymous with excess. They're loud, they're crowded, there's a lot for attendees to see and absorb. Give your audience a break. Use the less-is-more approach to booth design.
This is counter-intuitive. You'd think flooding your booth with graphics and multimedia and giveaways would help you keep up with your competitors. Quite the opposite. It causes you to blend in with them. Keeping your display simple will distinguish you from the throng and pique attendees interest; they'll be drawn to the calm atmosphere. It makes your booth an oasis. It's not always about being the flashiest exhibitor, but instead creating an environment people want to go to and stay in. You can even try making your booth comfortable, by providing seating or even plush floor mats that provide foot comfort to attendees that have been walking all day.
Simple doesn't mean boring. A wall of banner stands or a well-considered hybrid backdrop can be stunning. The key is to choose displays that further your brand, align with your goals and plan and are well made. Cheap equipment is noticeable.
Sticking to essentials also helps induce interactions between attendees and your team members. The minimal messaging means attendees can't get your whole story as they walk by. It evokes questions, stirs interest, instigates action. They'll be compelled to approach and interact with your people in order to get your full message. Ét vóilà! A lead!
Opportunity #4: Follow the leads
Speaking of leads, how are you going to record and track them? Paper and clip board? Cards in a fishbowl? Like everything else in our technology-driven world, there are lead capture apps to make this quick and easy. The question becomes how to incorporate the technology into your exhibit. Do you arm your staff with smartphones or have visitors interact with a tablet on a display stand. Whichever method you choose, plan it! This is the vital information you came to get. Don't let it slip away.
Once you've decided on a recording and tracking system, make a plan for contacting the leads post-show. Many companies choose to contact leads the same day or during the trade show. This isn't effective. In fact, it comes across as pushy and over-eager. Waiting a day or two post-show has a two-fold effect: it projects confidence on your part and it distinguishes you from other companies. You'll also get their undivided attention which increases your chance of furthering the relationship.
Opportunity #5: Give pertinent giveaways
Giveaways are definitely helpful when it comes to getting visitors to remember you. However, they need to be pertinent to your brand. If you're a microbrewery, passing out drink cozies or bottle openers is appropriate. Not so much for an accounting firm.
There are endless swag options. Finding something relevant to your brand that your visitors will love is well worth your time and money.
It's also wise to have a giveaway strategy. As Colin Hageney suggests in his article 5 Common Trade Show Mistakes and How to Avoid Them on Bullpen Marketing, have three levels of giveaways:
1. Something for scoopers

This is an item that costs less than a dollar for the people that just come by the booth to get stuff. This item should not only have your logo but it should have a web address for them to visit in order to learn more about your company. Bonus: Have a special web address (or landing page) specifically for the show that gives them the opportunity to learn more about your purpose at the show. i.e. Introduction of a new product or service.

2. Something for qualified prospects

Depending on your budget, this could range from $2-5. The people who receive these items are ones who would be a good fit for your product or service. Perhaps they attended a presentation, a demonstration or entered your contest. The product you're giving them should reinforce your company's brand and offering.

3. Something for clients

Often times you'll have clients visit you at a tradeshow booth. You'll want to reinforce your relationship with a gift. Depending on the value of a client to your business, these can be $5-50. Often times, nice golf shirts are given to clients so they can be walking brand disciples for your company.
And then there are printed materials. Brochures, flyers, catalogs. Be careful with these. They can be quite costly and usually don't get read. In fact, they can prevent visitors from interacting with your staff. Attendees will simply take the handout and keep walking. This kills your ROI. Distribute these materials judiciously as part of or after a conversation has ensued.
What to giveaway, how and to whom should be included in your initial plan. Your staff should know their purpose and the intent behind giving them away. Again, leave nothing to chance.
Getting your trade show exhibit planned, ordered, staffed, up and running will be hectic and nerve-wracking and overwhelming. This is part of the process. But you can take control. Set expectations, make a plan and take advantage of these flop-avoiding opportunities. They will improve your trade show experience and lead it to great success.
Do you have a flop-avoiding opportunity? We'd like to hear it! Share it in the Comments. If you need help implementing any of these strategies or would like input on booth design, please contact our experts. You can Live Chat with them on our web page: AceExhibits.com or talk to them on the phone at 888-777-0223.