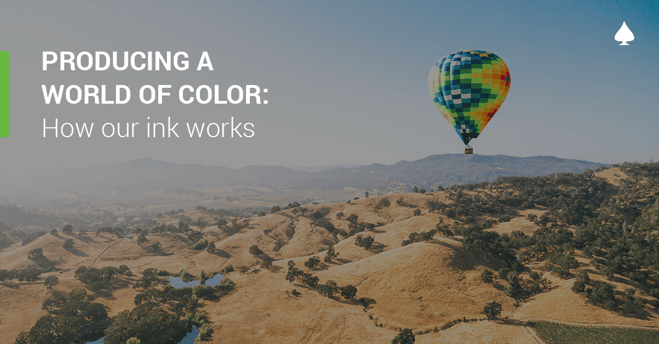 Let's talk ink
"What?! Isn't it enough to know the difference between a banner stand and a tension-fabric backdrop?"
Yes… and no.
Making a dynamite trade show display hinges on details: file formats, image resolution, fabric quality, frame material, construction design… Ink.
The more you know about these details, not only will ordering a display go quickly and smoothly, it will also facilitate getting the display you envision. We're not saying you need to be an expert on any of these topics, but having a working knowledge of their basics is worth pursuing.
So let's talk ink!
Ink ABC's
All ink is comprised of a colorant (dye or pigment) and a carrier liquid
Which colorant and which liquid is determined by the printing process used to adhere the color to its final material or substrata: will it need a heat finishing, do fumes need to evaporate, is it being dye-sublimated. Which printing process is determined by the project. A temporary, outdoor banner has different considerations than a long-term, interior POS display, such as exposure to UV rays, need for waterproofing, etc.
There are two types of ink: aqueous and solvent
Aqueous inks are liquid-based. Water is usually the liquid of choice, although it's sometimes substituted. These inks are fume-free, non-corrosive, and require no extra finishing time. They allow a higher production speed and are good for short product runs. Their liquid base is easy on the printing machines, which reduces maintenance and contributes to cost-effectiveness. They're also eco-friendly allowing for a smaller carbon footprint.
Solvent inks are oil-based. This base makes them extremely fade-resistant, waterproof, and abrasion tolerant. Their durability makes them perfect for outdoor, long-term presentations. However, they have big negative trade-offs. They produce Volatile Organic Compounds (VOC), which are highly toxic, they're extremely corrosive, and they require extra finishing processes. These factors increase production costs and turnaround times, as well as damaging the environment.
How Ink Gets Pretty
Color is produced via dye or pigment.
"Aren't those the same thing?" Kinda.
Dye is color that's fully dissolved in a solution (aqueous or solvent); it becomes part of the liquid. Think sugar water. As such, the color takes on liquid's characteristics: it soaks into porous materials, it smears, it fades. In the past, these have been major drawbacks, however, steady improvements in dye formulas have made these negative attributes virtually nonexistent.
Dye has two major advantages: color vibrancy and a very small dot per inch (dpi). Dye color reflects light and therefore exhibits intense, vibrant colors. It also produces a wider, richer range of hues.
Dpi is a printing term referring to how many dots of ink will fill an inch of space. A small dpi results in clear, sharp images, a.k.a. high resolution. This is a crucial concern when printing in large formats – like trade show displays.
Pigment, often referred to as UV, is fine-powdered color suspended in a solution. It creates a coating that sits on top of the target material instead of sinking into it. This results in a more durable, long-lasting, fade-resistant, color. Unfortunately, pigments tend to be more expensive and don't have the color depth of dye inks.
Still confused? Here's a short video demonstrating the difference.
What You'll Hear at the Printer's
The commercial printing industry has taken these ink basics and developed an array of ink combinations suitable for every printing need imaginable. They've also created terms referring to these combinations. The trick is matching the vocabulary to the combination. Here's what you may encounter:
Dye: This usually refers to an aqueous ink as the water base makes it easy for the process to occur.
UV: This gets used as shorthand for pigment and can refer to either aqueous or solvent ink. It's best to clarify which the base component is being used.
Solvent: This indicates oil-based ink, usually colored with pigment (UV).
Eco-Solvent ink. This is a milder version of solvent ink. It's also usually colored via pigment (UV). Its name does not mean it's Earth-friendly, only that it's not as potent as regular solvent ink.
Latex: This is a pigment-colored, water-based polymer. It doesn't create VOC's and isn't highly corrosive like solvents. Its high elasticity makes it popular for vehicle wraps and other projects involving contouring.
Dye-sublimations ink: This is ink specifically for the sublimation process. It can be aqueous or solvent, dye or pigment. Aqueous dye ink, or "dye", is the most commonly preferred ink for this format as it is easy to change out and can accommodate small press runs.
What Ace Exhibits Uses
As you know from our product descriptions, we use dye-sublimation for fabrics and solvent for all vinyl and PET-based materials. One of the reasons we choose dye-sublimation for many of our graphic prints is because it's economical, fast, and produces high quality graphics. And although dye-sublimation works well with either aqueous or solvent inks, we use the water-based dye inks. Here's why:
It's environmentally responsible. Aqueous inks don't create toxic fumes, hazardous waste, nor are they corrosive. We're always looking for ways to reduce our carbon footprint. This is helps us do that.
These inks allow us to produce high-resolution, color-rich, quality graphics quickly and economically. This in turn helps us keep our costs low and meet our 24-hour turnaround standard.
These inks give us flexibility. We can do small, individualized runs effectively and efficiently allowing us to serve our clients (that's you!) in a timely fashion.
Ink. It's a detail not usually considered or discussed during trade show preparation. However, understanding what it is, how's it's used and why we use the ink we do can help you plan more effectively, design more accurately, and communicate with us more efficiently. It's a little detail that has a big impact.
Want to know more about our inks? Need helping matching colors? Let us know! Our experts are on hand to answer questions, provide support, and help you choose the right display. You can speak them live at 877-952-4330 or chat with them online via our website: AceExhibits.com.