This is it. Time to order your trade show exhibit's cornerstone: the background display.
You've been browsing websites for days, wading through product descriptions, deciphering new terms (dye-sublimated?), calculating measurements all while silently hoping this information influx will coalesce into a fantastic backdrop that will not only come in under budget, but also impress your boss. Time is passing, deadlines are approaching... a decision must be made.
But there are so many products to choose from!
Before you get mired in information overload, do yourself a favor: focus on choosing a display type. Doing this first ensures that you will use your limited time productively; and that you aren't considering any unnecessary options. It also winnows down the information you do need to a manageable level. Bye-bye information overload. So long high blood pressure.
So what are your display type options? You have two: tension fabric or pop-up. That's it! However, choosing the right one takes careful consideration and research. The price difference between them can be $600 or more depending on the size of the display. This makes knowing their respective features imperative.
Below is a short primer on tension fabric and pop-up displays. Use it to determine which is right for your booth. As you read, keep future shows, events, and occasions in mind. Both display types are extremely versatile. Their functionality can extend beyond the trade show venue. Think company picnics, conferences, and sponsorship opportunities.
Let's get to it, shall we?
Tension Fabric Displays
The tension fabric concept is simple: a sturdy fabric membrane is stretched over a rigid frame creating tension which provides the structure with stability. This system is used to make cost-effective barns, airplane hangars, horse riding arenas, emergency shelters, etc. It also makes a great display structure.
Ace Exhibits' tension fabric displays have lightweight aluminum frames and custom printed, dye-sublimated stretch fabric (membrane). In keeping with the tension fabric construct, our designs for these displays are super-simple. This makes them easy to use and highly affordable.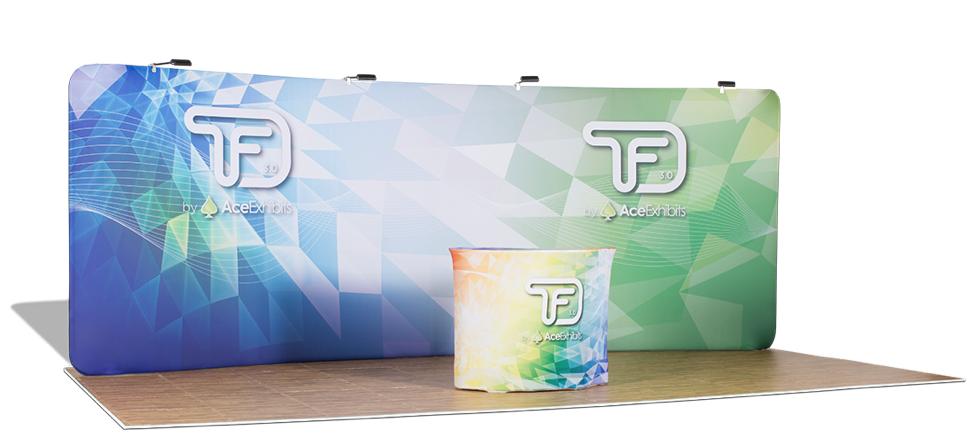 These displays have a lot of fabulous features which make them very popular, especially among trade show newbies. They generate a wow-factor on a low budget. Here are some other benefits of tension fabric displays:
Extremely lightweight. Tension fabric displays are easy to assemble/disassemble, transport and store. Setting them up is a one person job.
Highly versatile and compatible. Connect them to other tension fabric displays and/or mix-and-match them with other displays (pop-ups, banners, kiosks, etc). They can be a foundation piece or a supporting element.
Super compact. They're flat and therefore don't require a lot of space to use or store. This makes them a great fit for small spaces or for design concepts involving a clean, sleek look.
Emphasizes the graphic. Because of the tension in the fabric, these displays really emphasize your graphic (the fabric with your image on it). The image pops. Ace Exhibits boosts this effect by using their dye-sublimation printing process which produces rich colors and a high-resolution output.
New technique. The tension fabric system is relatively new to the trade show display industry. This means you won't see a lot of them on the trade show floor. Using them is a great way to distinguish your booth.
Pop-up Displays
Pop-up structures also use lightweight frames covered by fabric, however, the frame system is more complex. They expand and contract (think accordion), hence the moniker "pop-up". This more complex structure gives these displays more depth than the tension fabric design, since they're three-dimensional.
Ace Exhibits' pop-up displays have lightweight aluminum frames and a variety of mediums (fabric, laminated panels, etc.) for the graphic to print on. We offer an array of sizes from tabletop to backdrop.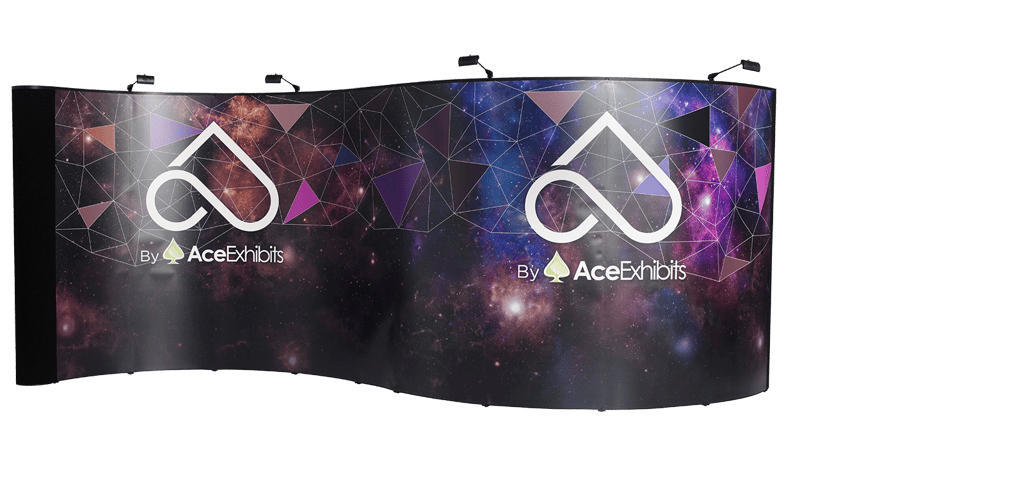 Besides being visually impressive, pop-up displays have the following benefits:
Extremely lightweight. Like the tension fabric displays, the pop-ups are light, easy to handle, transport and store. Unlike the tension fabric displays, their set-up/take down is simplified by the option to leave the graphic on the frame when it's stored. One less step!
Easy transport. The pop-up displays are easy to move. Their cases have wheels and telescoping handles making travel through airports and parking lots a breeze.
Graphic power. This is another area where the pop-up's depth gives its overall look extra zing; the graphics really pop off the frame. Of course, every graphic is printed using Ace Exhibits' high-caliber, large-scale processes for rich, vibrant images.
You're probably noticing some commonalities between the display types: lightweight, portable, easy-to-use. These are display basics that have to be met in order for a display to be viable. Ace Exhibits' displays have two more commonalities that increase their versatility and value.
1. Reusability
Each Ace Exhibits display has a replacement graphic option. This allows you to change your display's graphics to accommodate new campaigns, new logos, new events without purchasing a new frame. This graphic-only option helps you make the most of your investment.
2. Customizable
Not only can you get custom printed graphics for your display, you can also customize them with lighting, podiums, hanging signs, banner stands, shelving... The list is endless. A backdrop is just the beginning.
The best part about both display types is that Ace Exhibits prints and assembles them right here in the United States. Not only does this support our local economy, but it also helps keep our costs down and allows us to deliver them quickly - usually within three days!
There's a lot to consider, process and decide on when building a trade show exhibit. Choosing a display type is only the first step. However, understanding the differences between the two display types will help you decide which best suits your needs. If you have any questions, Ace Exhibit's customer service team is on hand, ready to help make your trade show a success!
Was this blog post helpful? Are you ready to choose a display type? We welcome your feedback. Share your thoughts in the Comments section. If you're having trouble choosing a display type, contact us. Our display experts can help you determine which type would best suit your needs and/or answer any questions you may have. You can Live Chat with them on our website: AceExhibits.com or speak with them at 888-777-0223.