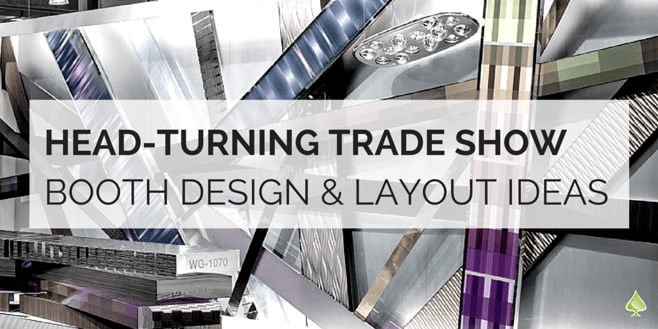 The whole objective for exhibiting at a trade show is to attract new opportunities that will prove promising for your brand.
In order to do that, you must create a presence at the show that is eye-catching and worthwhile. While the concept of "go big, or go home" applies somewhat to trade show booth designs, there's a bit more method to the madness than throwing a bunch of money to have the most outrageous booth.
Remember, you want your trade show display design to be eye-catching, not an eyesore.
Here are some helpful tips on how to create head-turning trade show layouts so that your brand doesn't get lost in the crowd.
1. Maximize Booth Location
The first thing you will want to consider when designing your trade show booth is where your booth is located on the show floor and which direction will get the most foot traffic during the show.
If you're late to the game and get one of the last booths located in some obscure area or corner of the floor where there's less traffic, then build up, not out. In other words, design a booth that's tall enough to be seen above the rest of the booths that has an eye-catching design or pop of color that draws attention from afar.
Another great option is to have a large hanging sign that suspends from the ceiling so that your brand's name is visible from all angles of the floor.
2. Layout Design
No matter where your booth is located at the trade show, it's imperative that you design a layout that is both open and inviting so that people feel more inclined to stop by and see what your company has to offer.
The actual design ("look") of the booth will attract people to your booth, but the layout ("feel") is what's going to make them want to stay. If the booth has a beautifully designed aesthetic but tables line the perimeter, then attendees may subliminally perceive those tables as barriers to your team and, ultimately, your offerings.
The Honest Company does a beautiful job creating a warm, open and inviting look and feel to their trade show booth (see picture below).
If you're planning on hosting meetings during your show, or would simply like a more private area for meetings, then consider incorporating a private meeting room into the floor plan of your booth for that added touch of luxury and convenience that is sure to get people talking.
When passersby see meetings being held in the private conference room, their curiosity will be piqued and they will probably want to be in the know of what's going on - in other words, they'll be interested in what you're selling.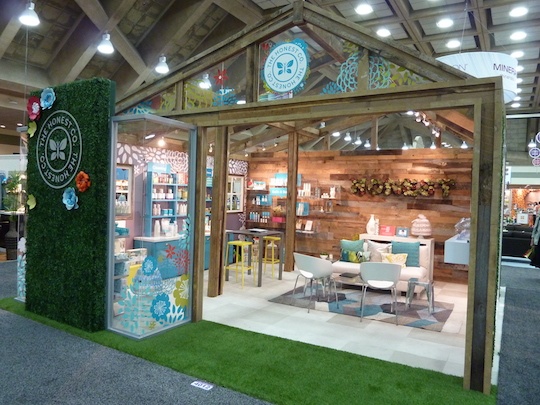 (Photo Credit: Living Maxwell)
3. Get Creative
This is where your team needs to let their creativity run wild.
If you want your booth to make guests ooh and ahh, then get creative with how your brand and its products are incorporated into the actual design and functionality of the booth.
Too often, exhibitors make the mistake of treating their trade show booths more like information stations rather than an extension of their brands, and they end up missing out on valuable opportunities to make connections with new leads.
Here are some ideas for adding a bit of creativity to your booth:
Dedicate a space inside your booth for visitors to interact with your products and try them out.
Incorporate interactive modules into your design that showcase your products/services but also capture lead information.
Veer away from the conventional rectangle booth shape and get creative with a unique shape that ties into your branding.
Mix different natural elements, like greenery, wood and glass to add a refreshing sight for sore eyes.
Offer something that is a sigh of relief for trade show attendees, like a free on-site massage, free glass of wine (if permitted) or $5 gift card for a coffee from the local coffee shop.
Host a contest or scavenger hunt that has amazing prizes.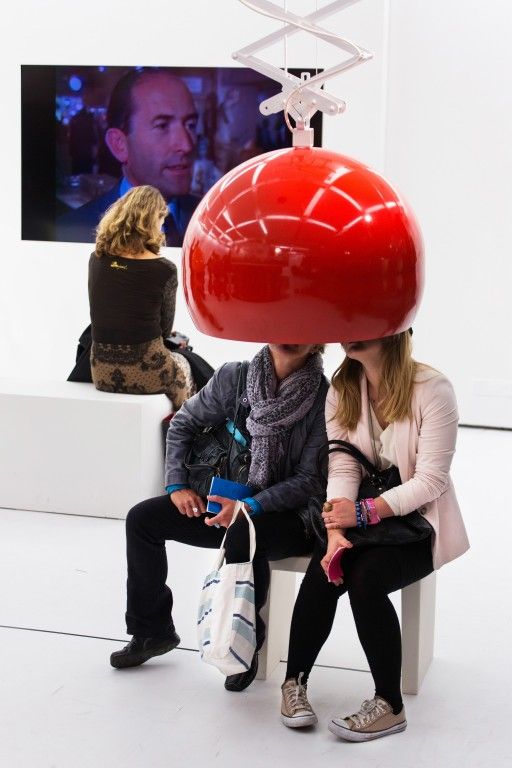 4. Signs + Banners
One way to capture the attention of passersby is to use eye-catching signs and banners with your branding printed on them.
There are a wide variety of displays table top displays, pop-up displays, hanging signs and podiums to help get your brand noticed at a trade show, so familiarize yourself with the different options so that you can select the ones that are best suited for your trade show needs.
Typically, pop-up displays are best used to showcase products/services because they are eye-level and draw people's attention more so than a large overhead hanging sign.
However, if you're tucked away in the back (as mentioned earlier), then it wouldn't be a bad idea to print images of your main products along with your company name and logo on a hanging sign to let attendees know you're exhibiting and what you're offering.
Make signs clear, concise and informative so visitors know exactly who you are and what you do after skimming your signs and banners.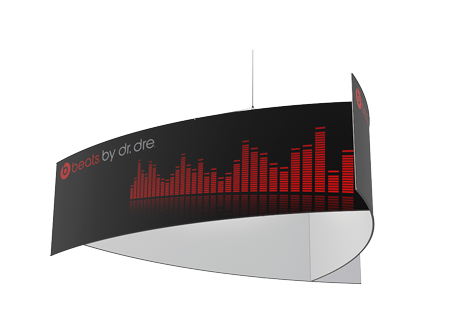 5. Lighting
Lighting is one of the best (and most overlooked) ways to add another element of "WOW!" to your booth.
LED lighting, especially, is a great way to showcase products or simply spotlight banners and draw attention. Use lighting to add dimension and color to your booth (like Microsoft did in the picture below), as well as a means to direct people's attention to what you want them to see.
Remember, a well-lit booth is an attractive booth. Stay away from using flashing lights, like a strobe light, that may be deemed overwhelming and annoying by visitors.
Also, every trade show has different rules and regulations for lighting, so check with the show organizers before you set your heart on a booth with multi-color lighting, because it may not be allowed.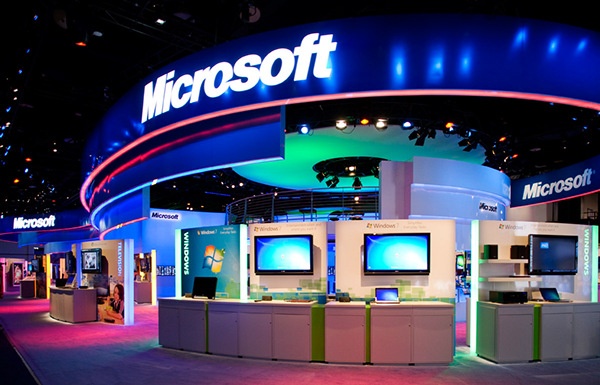 6. Audio + Visuals
Another effective method to capture your audience's attention is by presenting audio and visuals at your booth.
If you are planning to have audio and/or video playing at your booth - be it background music or a promo video - ensure that it's high-quality or else you run the risk of your efforts being a huge deterrent and distraction.
Chances are, trade show attendees would much rather watch your promo video uninterrupted to gauge whether they are interested or not interested in your offerings so take time to produce a video that is worthwhile and captivates the viewer's attention, rather than just rambling on about your products.
What seems to happen at trade shows is that team members are so eager to introduce themselves to passersby, that they end up scaring away visitors who may have simply wanted to read what the company was all about before being bombarded with an introduction and a sales pitch.
By letting attendees watch the promo video at their leisure, you and your team can better gauge who's interested and who's not.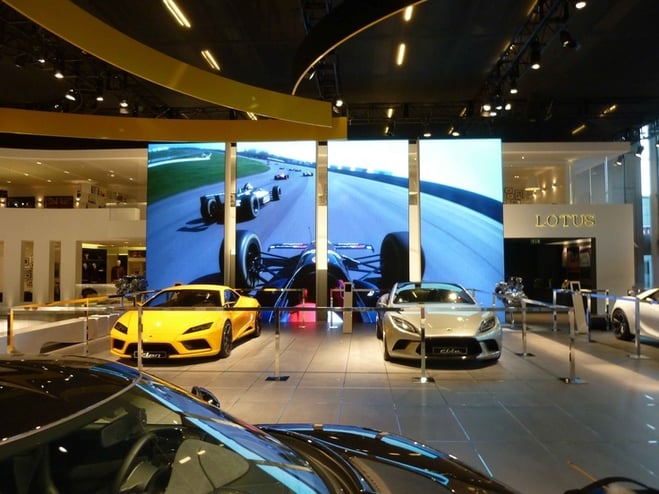 7. Add-ons + Simple Luxuries
There's no better way to win over trade show attendees than by offering the simple conveniences that seem like luxuries after a long day roaming the aisles of a trade show.
The "luxuries" we're talking about are:
A padded flooring to add extra comfort for your attendees
A lounge area for people to rest their feet (and learn more about your company)
Snacks and light bites (if food is permitted at your booth)
Alcoholic beverages at the end of the day (again, if permitted)
Free (branded) water bottles
Complimentary charging station (Wi-Fi charging station, if you're feeling fancy)
Swag gifts of any sort, because everyone loves a freebie
Offering these luxuries is beneficial for you, too - don't fret. When people approach your booth and indulge in said luxuries, you have the opportunity to spark up a conversation with these guests who are probably pretty grateful for your generosity, thus more inclined to listen to what you have to say.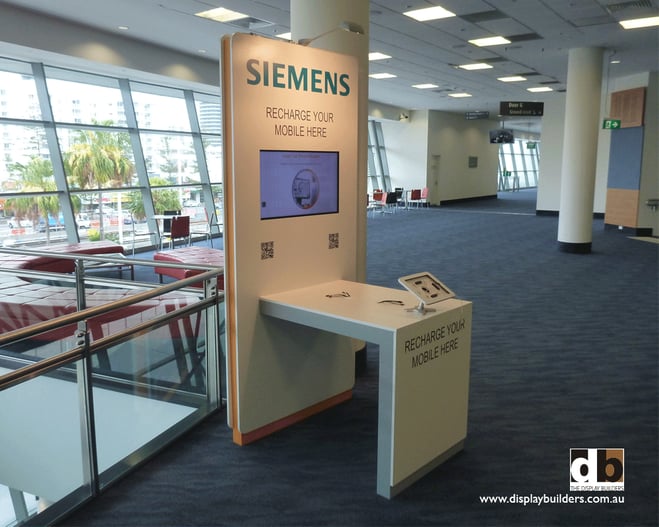 Conclusion
Trade show booth design is the main tool in attracting passersby to talk about your company and products so it's important your display is creative and head-turning. Here's a quick summary of how you can add some flair to your display:
First, maximize your booth location's potential
Use a layout design that is inviting
Add a touch of creativity to stand out among other exhibitors
Install large signs that can be seen far away
Use lighting to draw attention
Incorporate audio and video to keep passersby engaged longer
Offer some luxuries at your booth to win over attendees
Be creative about how to attract people to your booth and be sure when they get there, you make their time worthwhile - oh, and don't forget to collect their data too!
We've got more tips and tricks for you to be successful the next time you exhibit, like our blog article about the best ways to collect leads at a trade show. Be sure to get all of your marketing ducks in a row with our Ultimate List of Exhibit and Trade Show Marketing Tactics, so that your next trade show is a huge success.