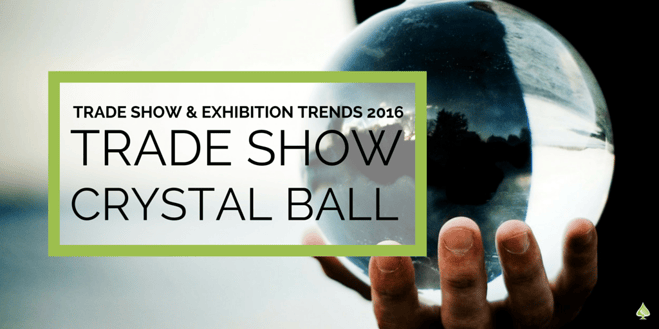 Tyler Nixon | Getty Images
2016 is under way and you may be asking yourself, like most marketers are: "Where do trade shows, conferences and other in-person events fit within my marketing mix?" This post uncovers trade show trends and looks at factors that will impact the trade show and events industry. Be prepared to forecast your trade show ROI in 2016.
The Economy
The state of the economy has a large impact on the health of the events industry. It is both good and bad news that 2016 is expected to be more of the same, "flat is the new up," market conditions despite the recent volatility in the stock market. The U.S. economy is expected to grow 2.4% - 2.8%. While not a stellar growth forecast, the economy is expected to be resilient to slowing economic growth in China and other macroeconomic factors.
A CBS MoneyWatch article recently shared the following insights. "Currently, the U.S. indicators are fairly sturdy," said Kelly Bogdanov, portfolio analyst with RBC Wealth Management. "We're not seeing any significant recession risks cropping up now. Employment is solid, the service sector continues to be quite strong, personal income is growing and consumer spending looks good."
The good news is that the events industry will not be significantly damaged by downward economic forces. However, most marketers will not experience an effortless boost in event ROI due to booming marketing conditions.
Trade Show & Event Attendance
The 2015 Benchmarks & Trends in Exhibit and Sponsorship Sales research study conducted via a collaboration of Exhibit Surveys, Lippman Connects and Trade Show Executive (TSE), reported that the attendance growth rate across industries is chugging along at about 2%. The low event attendance growth rate is attributed to corporate consolidation activities within many industries and to the lean nature of many organizations. In many industries there are simply fewer professionals to attend events and less time available to be away from the office.
Exhibit Sales
The 2015 Benchmarks & Trends in Exhibit and Sponsorship Sales study reported that 63% of event organizers experienced an increase in exhibit space sales. In addition, organizers enjoyed an average increase of 5% in the average price per square foot from 2014.
Anticipated Event Effectiveness
The Content Marketing Institute's B2B Content Marketing – 2016 Benchmarks, Budgets and Trends study found that for a sixth year in a row in-person events ranked as the most effective B2B content strategy. Specifically, 75% of respondents to this year's study said that in-person events are effective.
As for consumer expositions and events, growing income inequality will have an impact. Events catering to the top 20% of households stand a strong chance of doing very well, while events catering to the bottom 80% may need to carefully review strategies.
Cost Factors
The Professional Convention Management Association (PCMA) predicts hotel room rates to increase an average of 4.3% in 2016 and food and beverage costs to increase by an average of 4.5%. While the PCMA expects airfare to remain flat, the 2015 Benchmarks & Trends in Exhibit and Sponsorship Sales study suggests an increase in the price of exhibit square footage. Overall, core costs of event participation will increase in 2016.
What Does This Mean for You?
Trade shows and events will continue to play a critical role within the marketing mix. Continued sluggish growth in both the economy and event attendance, coupled with increasing costs of participating in events require exhibitors to think carefully about trade show marketing strategies and tactics. Given the effectiveness of in-person events in the marketing mix, smart and creative exhibitors will prevail within this environment. However, companies with lackluster strategies will see decreased ROI as costs increase and event effectiveness does not.